Hardware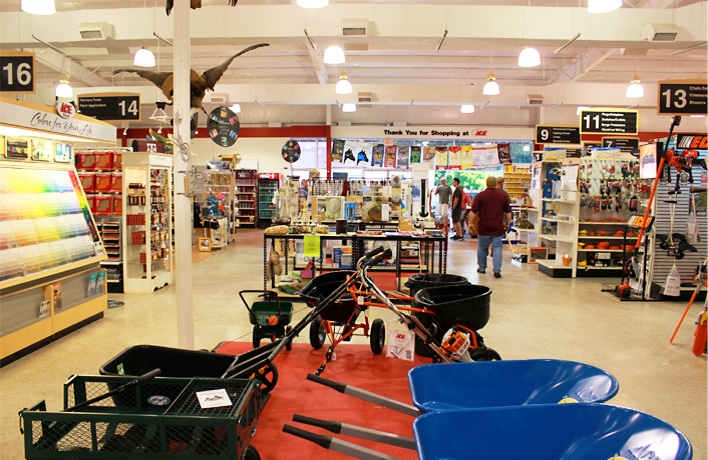 Tools
ACE Hardware carries almost any type of hand tool you could possibly want, as well as power tools. Whether you are installing receptacles or building a deck, our large selection of power and hand tools can make your job easier and quicker and give you more time to enjoy the things you love to do. Our tool department is stocked with product lines by:
Craftsman
Dewalt
Dremel
Irwin
Milwaukee
Shop-Vac
Vermont American
and many more
When you shop ACE Hardware, you can be confident that you will receive the help you have grown accustomed to.
Plumbing
Are those dripping faucets about to annoy you? Don't let the little drips cause you great problems. Walker County Hardware has a large selection of:
faucet handles
faucet sets
faucet stems, seats and most repair parts
faucet washers
o-rings
and almost any plumbing part you can imagine
Not sure what you are doing – no worries, our helpful staff is always ready and willing to solve your plumbing problem needs.
Do you need a pipe cut and threaded to size, or your copper tubing cut and flared? No problem, we cut and thread pipe; flare copper tubing and cut all types of pipe to just the size you need.
Included in our plumbing section is a large selection of manufactured housing repair parts for your troublesome areas. Whether it's installing a new faucet or repairing the existing faucet, ACE Hardware can handle your project. Whether you are putting in a new fixture or repairing the old, ACE sales associates will help you from start to finish.
Electrical
Our electrical department is stocked with all types of switches and receptacles for the homeowner and the contractor. Our knowledgeable sales staff is ready to assist you with the simplest wiring chore to wiring your whole house. We have all types of light bulbs from the standard cool white to the compact fluorescent bulbs. While shopping, don't forget to pick up that extra extension cord you need all the time but just don't have. We have a large selection of:
adapters & timers
batteries & chargers
electrical tape, tools, & testers
extension cords & power strips
light bulbs
lighting fixtures
switches, dimmers & receptacles
wall plates
and more